The Yayoi Kusama exhibit at the Whitney is amazing! I have been waiting years to see a show of hers. Obsessive art is so fascinating and awesome to me.
Saw this in 2006 when I visited Singapore
At the Whitney you will see a range of her work from the 1960's until now. Even cooler are the documentations of her 'Happenings'.
There are several of her pieces of things covered in "Phalli" like a couch and a row boat...also some shoes. I tend to think they mostly look like potatoes. A little girl checking the show out with her mom thought they looked like sea lions. They actually do!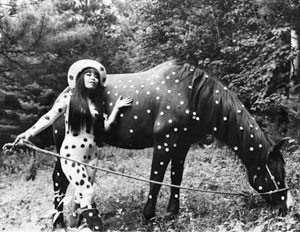 These are some of my favorite images and works of hers
This is what you do with your silly Whitney Museum sticker after leaving the museum.